REGIONAL RESOURCES understands the unique energy needs of each organization, whatever it may be. Not only that, our constantly evolving knowledge of the deregulated marketplace and our fostered relationships with a select portfolio of energy suppliers will produce results in a timely fashion that will rival all others. Our understanding and experience of the industry, coupled with our discerning taste for detail and insight, have allowed Regional Resources to meet the needs for many others like you.
Our satisfied customers range from municipalities and local government service providers, hospitals and health care facilities, to all manner of educational facilities (from preschool to post-grad), churches and related religious organizations and non-profit charitable properties, to urban office buildings, retail malls, apartment complexes, industrial plants and multi-state restaurant chains.
Simply by knowing their special market demands, thoroughly analyzing comparative load volume data and identifying the suppliers most qualified to meet those requirements. Regional Resources has procured the lowest market rates for supply and provided our customers savings of anywhere from 15 to 38 percent – whether they are commercial, industrial or government related.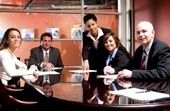 Our past experience with energy aggregation has also enabled us to introduce and assist many eligible entities who have aggregated their respective energy usage together to procure even better rates (as these entities still maintain separate billing and servicing and independent responsibility for their own respective charges).
The time is NOW for anyone seeking the maximum and the largest financial savings on their energy costs can take advantage of the unique expertise and experience offered by Regional Resources in any of the following deregulated energy markets.
Most simply put, if you're in business and use electricity in a deregulated market, and you want to save money, we're here to help you. Contact our team to learn more about how you can share in these incomparable cost savings.